Should a civil marriage celebrant who holds an orthodox Islamic view opposing same-sex marriage have the right to refuse to officiate at a wedding between two men?

Should an atheist baker whose opinion is that marriage should only be between a man and a woman be required to bake a wedding cake for a same-sex couple? What about a chauffeur booked to transport a couple to church?

Or a Catholic hotel owner? Could a hotel decline to host a reception, or to rent a honeymoon suite to married women?

Australia's tortuous same-sex marriage debate has come down to squabbling about bakers and florists but at heart it's about this: the tension between the rights of LGBTI Australians to have their marriages treated the same as anyone else's once same-sex marriage is legal, and the rights of the religious not only to hold a traditional view of marriage, but to discriminate against gay and lesbian people owing to their faith or conscience.

When the results of the same-sex marriage survey are released on Wednesday at 10am, with most expecting a yes vote, the arguments about where that balance lies are likely to become more urgent. Malcolm Turnbull has said parliament will resolve the issue before Christmas and a bill is likely to be introduced into the Senate this week.
But which bill? The survey question was simple: "Should the law be changed to allow same-sex couples to marry?" Yes or no. The details were left until after the result, and it is the details that reveal Australia's cultural fault lines, the fears of LGBTI people that their equality is provisional, and the fears of the deeply religious that the sands have shifted, that tolerance of their views, especially on sexuality, has limits in an increasingly secular country.
The starting point is the bill drafted by the Western Australian Liberal senator Dean Smith, backed by Liberal co-sponsors Trent Zimmerman, ­Warren Entsch, Trevor Evans and Tim Wilson. Labor supports it, as does the advocacy group the Equality Campaign, which says it's an "incredible consensus" that provides a path to finally legalise same-sex marriage.

Some LGBTI groups and the Greens worry that it allows too many religious exemptions, but for many it gets the balance about right. Smith's bill has been discussed since mid-year but, as the results of the survey draw near, there has been a dramatic pushback. Those opposed to marriage equality say the proposed protections for religious freedom are too narrow.
The Victorian senator James Paterson, a Liberal with a longstanding interest in individual liberties and who voted yes in the survey, has released a rival bill. It would give sweeping rights to those with a religious or even a conscientious objection to same-sex marriage to refuse to participate, over-riding laws that makes discrimination on the grounds of sexuality unlawful.
It has infuriated LGBTI groups and many lawyers. "This is not a bill about equality," says Anna Brown, co-chair of the Equality campaign and the director of legal advocacy at the Human Rights Law Centre. "It is a blatant attempt to punch holes in discrimination law and introduce special privileges for religious conservatives, who want to be able to say and do whatever they want with impunity."
Paterson is seeking a meeting with Smith, and says he is "open minded about the exact path forward". He hasn't decided whether he would be satisfied if the Smith bill was amended to strengthen religious exemptions, or whether he will push ahead with his own bill.

The government will facilitate a private member's bill being introduced to parliament, but leave it to MPs to argue about amendments. Ministers including Matt Canavan and Michael Sukkar – as well as the former prime minister Tony Abbott – are supporting key elements of Paterson's bill. "The right to freedom of belief is held by every Australian, not just those directly involved in church activities," Canavan told the Australian.

At this point, Turnbull's confidence that same-sex marriage bill would "sail through the parliament" if the survey returned a yes vote seems optimistic.
The rival bills are a political headache for the government, revealing again its ideological fault lines, but it is also a philosophical one about the balance between the rights of different people. The balance is never perfect, and is always shifting.
"We have a classic tension between two competing rights – the equality right and the religious freedom right. They are both important," says Prof Carolyn Evans, an expert in religion and law at the University of Melbourne.

The cross-party Senate committee that examined the impact of same-sex marriage on religious freedom noted in its report this year that there was no stand-alone federal law protecting religious belief, and "the evidence supports the need for current protections for religious freedom to be enhanced". It suggested this could be done by adding "religious belief" to federal anti-discrimination law.

Smith and his supporters would like to go down that path, and deal with the issue of protecting religious freedom separately, rather than within a same-sex marriage bill as Paterson's does.

Brown has no problem with that idea, either – the centre where she works has consistently argued for it, particularly to protect religious minority groups from discrimination. She agrees religious freedom protections are a "patchwork" – state anti-discrimination laws do protect religious belief, although protection is limited in South Australia and lacking in New South Wales.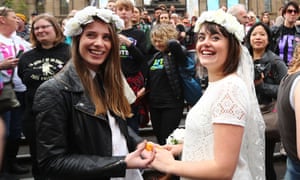 Yet Brown doesn't think a general religious freedom protection would mean much in the same-sex marriage context. Employment law already protects people from discrimination at work on the basis of their religious views. There are broad anti-discrimination exemptions for religious organisations in state and federal law – religious schools can sack teachers for being gay, for instance, or a single woman for getting pregnant. Religious organisations will be able to discriminate against married same-sex couples if they choose to do so.

Evans says that by international standards, Australia's exemptions on religious grounds are generous. Countries including the UK and New Zealand include religious belief in a charter or bill of rights, but that has been resisted here.

"Many religious groups have opposed a comprehensive bill of rights and instead now are arguing for specific protection for just religious groups," Evans says. "I think that's problematic – it's only one right and it comes into tension with other rights."

Smith's bill has been around since mid-year and begins with the non-controversial. A minister of religion of a recognised denomination has the right to refuse to solemnise a marriage if the refusal "conforms to the doctrines, tenets or beliefs" of the religion.

That right already exists in the Marriage Act. A religious minister can refuse to solemnise any marriage they choose. A Catholic priest, for instance, has a right to refuse to conduct a ceremony if one of the couple is divorced.

Religious bodies will also be able to refuse to provide facilities, goods or services for a same-sex marriage if it conflicts with their religious doctrine, tenets or beliefs or if it is "to avoid injury to the feelings of their religious communities". That exemption is consistent with federal anti-discrimination law now. It's not only limited to hiring out church halls, but would cover all wedding-related goods and services, even if they are normally hired out commercially.
Smith's bill goes further still. It creates a new category of "religious marriage celebrants" who can refuse to solemnise a marriage if it conflicts with their religious beliefs. This is mainly to capture ministers of emerging and independent churches that now marry people as civil celebrants. As well, existing civil celebrants will be able to transfer to this category within 90 days of the same-sex marriage law coming into force. No future civil celebrants will be able to do so and the religious celebrants will need to advertise as such so that same-sex couples will know to avoid them.
Three-quarters of Australian marriages are conducted by civil celebrants, with just a quarter of couples choosing a religious ceremony. Civil celebrants would continue as they do now, acting on behalf of the state and upholding commonwealth law. They cannot, for instance, refuse to marry a divorced couple under current law, and they would not be allowed to refuse to marry a same-sex couple.
It may be that Smith's proposal has substantial backing in parliament, and that the conservatives who want unprecedented allowance for religious groups and individuals to discriminate will struggle for support. Perhaps Paterson's bill is an ambit claim – but it is the starting point to chip away at Smith's draft, to broaden the right to discriminate against LGBTI people when it comes to marriage.
Paterson's proposal has qualified support from conservatives opposed to marriage equality. It has dismayed LGBTI groups and discrimination lawyers because they say it's about more than a tussle over the details of – it is part of a deep conservative attack on discrimination law and the rights of minority groups, an "opportunistic attempt by conservatives to undo the social progress of the last 50 years", according to Brown.
Paterson's draft would not merely allow ministers of religion to decline to solemnise a same-sex marriage, but any civil celebrant who had a "genuine religious or conscientious belief" on the issue. "Conscientious belief" means that a person may not be religious at all, but simply hold a traditional view that a marriage should be between a man or a woman. Evans says "that's one issue on which reasonable minds could differ" – a celebrant has to be directly involved in the ceremony and there is at least an argument that they should not be forced to act against their strongly held religious or moral views.

Evans says anyone more removed than that should not be excused from discrimination laws. Yet Paterson's draft would permit any person with a religious or conscientious opposition to same-sex marriage to refuse to supply "goods, services, accommodation and facilities" for such a marriage.
At the moment, commercial businesses cannot discriminate against people when they provide goods or a service – they cannot refuse to hire a person because he is black, they cannot refuse to serve a Muslim.

Paterson's proposal gets messy. He says the refusal to supply ordinary commercial goods and services would need to be "directly connected" to a wedding. So, a baker could not refuse to bake a birthday cake for a gay person – that would be against discrimination law. "But if a gay couple went and said, 'Can you supply a wedding cake?' the baker can say no, because that's asking the baker to participate in their wedding and if it's against their values we shouldn't force them to."
A taxi or Uber driver couldn't refuse to take wedding guests to a same-sex ceremony, but "a wedding driver who drives a classic car and is a small business operator … shouldn't be forced to take the couple to and from the wedding". A hotel owner could refuse to host a reception but could not refuse to hire a room to a gay couple on their honeymoon.

It may be confusing but Paterson's bill does upend established anti-discrimination law and no other country with same-sex marriage has introduced similar provisions. Paterson's draft specifies that federal law in this area would overrule state and territory laws, too.

The objection is obvious: we have outlawed discrimination on the grounds of sex, age, race, disability and sexuality. If we permit an individual with a religious or even a non-religious objection to same-sex marriage to refuse to participate, why shouldn't someone be permitted to refuse service to a Muslim, or only hire men, or sack a woman if she gets pregnant if that accorded with their religious or moral views? The principle is the same and Paterson's bill would set a precedent.

Evans says Australia has tended to give religious exemptions to groups rather than individuals, because once an individual can decide which laws are consistent with their personal conscience or morality, it means that "each individual is a law unto themselves".

"It's basically giving a right to say, 'We don't serve your type here.' If we don't feel comfortable about that in respect to race or religion or sex, then I don't think we should feel comfortable about it in terms of same-sex marriage," she says.
"If it is harmful to require a florist to provide flowers for a wedding if that offends his religious beliefs, then logically it is probably also reasonable to say that he does not have to employ a woman if his religion says that women should remain in the home and not hold a job."

Paterson "completely understands" the argument that the principles in his bill, if applied to other areas, would mean widespread discrimination.

"This is a purely pragmatic and practical decision reflecting the reality that no one is calling for those sorts of exemptions [to other areas of discrimination laws]. There is no genuine community demand for those kinds of protections. There is a significant community demand for protections on this issue."
Paterson's estimates that between 30% and 40% of voters in the postal survey will vote no, a significant minority. He points out, too, that opinion polls have indicated support for protections for religious freedom if same-sex marriage is legalised, including for commercial businesses.
His bill dips into the Safe Schools debate, and would legislate to allow parents to remove their children from classes that don't reflect their traditional marriage views. Charities would be protected from having their funds removed if they opposed same-sex marriage.
But his central goal is to stop activists suing people. "I don't want to see florists have their business ruined because they decline to offer flowers to a gay wedding," Paterson said.
"If we only pass a narrow bill that doesn't have these broad protections, then this issue will be fought out in the courts, for many years potentially, and it will make what should be a wonderful moment for Australia and for gay couples into something that is acrimonious and fraught and I really don't want that."

Paterson and many conservatives point to incidents overseas – and here – where they say there have been attempts to force individuals and groups to go against their conscience on same-sex marriage and where people have been intimidated for holding a traditional view of marriage.

Often, these raise free speech issues. The famous case of the Colorado baker who refused to create a wedding cake for a gay couple will head to the US supreme court next month. In Australia there was a complaint to the Tasmanian anti-discrimination commissioner after the Catholic Archbishop of Hobart circulated a booklet outlining the church's position on marriage in 2015. The objection was especially about booklet's questioning same-sex couple's raising of children, but the complaint was dropped before the commissioner considered it. Conservatives are convinced such cases will become more common once same-sex marriage is legalised.
Evans's view is that the Tasmanian case was "misguided". But she agrees such cases will continue whether or not same-sex marriage becomes law. The world is changing, the balance between rights will keep shifting as they have always done.

And, yes, some activists might push the boundaries, she says, but that's how progress is often made.

"The same tactic was used by the civil rights movement in the US about racism. People deliberately went in and demanded to be served on equal terms – we now see that as admirable, even if at the time many saw it as provocative."

For some reason, she said, we don't seem to take discrimination against LGBTI people as seriously as we do other forms of discrimination. Even if same-sex marriage becomes enshrined in Australian law, there's a fair way to go.